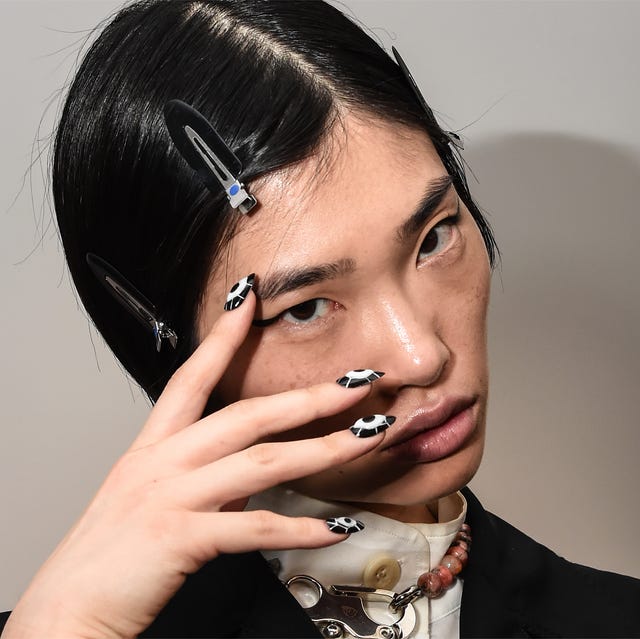 DANIEL ZUCHNIK
Another New York Fashion Week brings another wave of fall nail trends, and this year's looks did not disappoint. Elaborate 3D nail art is still alive and well, thanks to Alice & Olivia and The Blonds, while pastel gradient nails mirrored the changing colors of the season at Rebecca Minkoff. Ahead, see the best nail looks we've spotted at the 2020 fall/winter shows. Plus, how you can DIY at home to recreate the looks.
1 of 43
Alice & Olivia
More is more when it comes to embellishments at Alice & Olivia. The masterminds at KISS chose a coffin nail shape and black polish as a base, adorned with rhinestones and gold jewels. "I wanted to celebrate the playfulness yet edgy feel of the collection with fierce embellished nails," said manicurist Gina Edwards.
4 of 43
SHOP THE LOOK
Mischo Beauty Run the World Nail Lacquer, $20, mischobeauty.com 
5 of 43
SHOP THE LOOK
OPI Matte Top Coat, 8.69, target.com 
6 of 43
SHOP THE LOOK
KISS 3D Luxe Accents, $4.99, kissusa.com
7 of 43
SHOP THE LOOK
JinSoon Bejeweled Nail Art, $8, jinsoon.com 
8 of 43
Vera Wang
Send nudes. Vera Wang embraced the simple, clean mani using OPI's Infinite Shine in 'I Am Natural.' The sheer pink shade paired well with short round nails.
11 of 43
SHOP THE LOOK
Pear Nova Novacaine Nail Polish, $18.50, pearnova.com
12 of 43
SHOP THE LOOK
OPI Neo-Pearl Infinite Shine Collection in I'm a Natural, $13, amazon.com
13 of 43
SHOP THE LOOK
lapierrecosmetics.com
$15.00
La Pierre Cosmetics Nail Lacquer in You're Tutu Much, $15, lapierrecosmetics.com
14 of 43
Rodarte
Rodarte's Dracula-inspired collection called for Vampiress-worthy nails. Models sported sharp manicures in two different Morgan Taylor looks, either deep blood red or abstract feathery flames.
17 of 43
SHOP THE LOOK
Morgan Taylor Take the Lead Nail Lacquer, $9.49, sallybeauty.com
18 of 43
SHOP THE LOOK
25th and June Erato Nail Elixir, $12, 25thandjune.com
19 of 43
SHOP THE LOOK
OOO Polish in Oya, $5.50, ooopolish.com
20 of 43
Rag & Bone
Manicurist and celeb favorite Mei Kawajiri was tapped to create whimsically, over-the-top nails for Rag & Bone. Designs featured colorful mushrooms, snakes, and eyeballs, all using OPI polishes.
23 of 43
SHOP THE LOOK
Multi Shapes Glass Crystals, $10.89, amazon
24 of 43
SHOP THE LOOK
China Glaze Stripe Rite Paint It Black, $1.50, ulta.com
25 of 43
SHOP THE LOOK
SinfulColors Claws Press On Nails, $5.98, walmart.com
26 of 43
Veronica Beard
Embracing the hues of fall, Veronica Beard opted for a brownish red shade color-blocked against a creamy nude. The pros at Essie put a modern twist on the half-moon manicure by painting a horizontal line in lieu of a crescent.
29 of 43
SHOP THE LOOK
Auda B Beauty Paradise Sunset Blvd, $18, audabbeauty.com
30 of 43
SHOP THE LOOK
Law Beauty Essentials 2 PM Wine, $9, myshopify.com
Advertisement – Continue Reading Below
This content is created and maintained by a third party, and imported onto this page to help users provide their email addresses. You may be able to find more information about this and similar content at piano.io